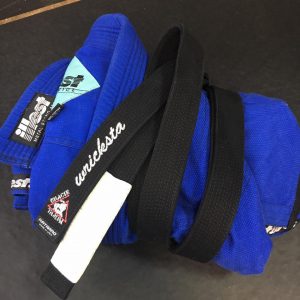 9/3/17 – I stood among my brothers Eric Callueng, Jeff Morris, and Sonny Parlin and received my BJJ Black Belt from our longtime instructor Rob Kahn in front of close friends and family.  It was one of the best experiences of my life.
Since I received it everyone's been asking me, "What's it feel like?"  I know that question well because I've asked the same questions.  Earlier this year at Gabe and Cherie's(Grace St Pete) wedding, Sonny Parlin(Gracie Bradenton) and I pestered our buddy Kevin Gallagher with questions: "Is it true you get super powers after you get your black belt?", "Is it true you are un-tappable after you get your black belt?", "Is it true your ass wipes itself after you get your black belt?"  And they got more outlandish, the more drinks we had.  I was with Sonny, so you can imagine lol.
Kevin responded with, "Nothing is any different, there is no special powers, sorry to break it to ya."
I regularly text my brutha Josh(Gracie Owensboro) and I asked him the same question after he received his black belt.  His response was, "Honestly I feel like a white belt again, constantly learning…"
My fam in S. FL, Ruben Alvarez messaged me after my ceremony.  I then asked him if he had any advice for me.  His response was so f*ckin awesome, "Simple, stay being you.  Sh*t doesn't change.  It gets political with the belt, but just be you.  But I know Rob doesn't play that, that's why I love him."
Now, that I look back over the past year of conversations with my instructor HobbyK.  He has been "grooming" us. He has gone over rules of promotion, what to look for in our student's progress, his past experiences with different people,  the political side of Jiu Jitsu, etc.
I am blessed with so many good guys around me that I can turn to for advice.
So my answer to the question….  Nothing has changed.  In BJJ, like in life, I am constantly learning and growing. What does the faixa preta mean to me?  It means I busted my ass for over a decade doing something I love, and has made me a better person.  And now I can pass down everything I've learned from my instructors onto my students. Do I deserve it?  Honestly, I don't think so.  But it's not my decision, it's my instructor's and I am growing to accept that.