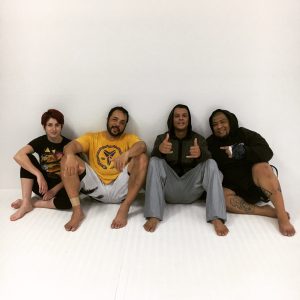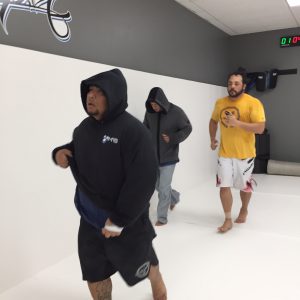 It has been very busy at GWC, this weekend especially.  My buddy Professor Juan Fernandez hit me up to see if I had any game blue belts to enter into his 145-165lb 8-man tournament at ACL 2 on 2 days notice.  David Manjarres stepped up like a true warrior.  Coach Miguel and Coach Adam both came in on their Off Day to help him prepare.  On Friday he was still 4lbs over, so Rob and Maegan came in to give David some work.  David had never donned a sauna suit before, so I suited up with him.  I turned up the heat in the gym and we rolled, and rolled and rolled, then ran laps around the gym until David was 164.  Not gonna lie, it sucked lol
Coach Denny, Cowboy, Venetia, and I made the trip up to Orlando to corner and support David.  He looked drained from the cut and lack of food, but he was ready to compete.  He went into his first match attacking off his back, and threw up kneebars, toeholds, and a triangle.  He showed beautiful jiu jitsu, but he fell short and lost.  At 40+(we'll call it that lol) years of age, he was at least 15yrs the senior to the rest of the guys.  I give him props for stepping up.  Back to the lab to tighten up some things and be ready for the next one.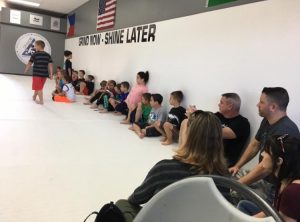 Earlier Saturday afternoon, we had our first Birthday Party at GWC.  My lil ninja Jacob chose to celebrate his 9th birthday at the gym with all his baseball buddies, bjj buddies, and classmates.  From what his parents tell me, it was a HUGE success.  They received a lot of positive feedback from the other parents.
The Wolf clan choosing to have Jacob's birthday party at G-Dub over anywhere else meant a lot to me.  Through jiu jitsu my family has become very close to theirs.  The coaches coming in on their off days to help out one of the guys and training partners coming in to help their teammate cut weight for a competition on a Friday night shows how committed they are to helping each other….
Common theme here?  FAMILY.  The bonds forged through training Jiu Jitsu is unlike any I've experienced.  I love my G-Dub family.